Living Blues Magazine
ANDY T – NICK NIXON BAND – Livin' It Up 
Delta Groove – DGPCD – 166
Guitarist/vocalist Nick Nixon came of age on Nashville's thriving '60s-era African American blues circuit. He's worked and recorded pretty steadily since then (among other things, he's a longtime member of the New Imperials, and he also put in some time at Chess Records in the 1970s), but until recently he's remained mostly a local and regional "living legend." [See LB #225 for a full feature on Nixon.] His compatriot here, guitarist Andy T (nee Talamantez), arrived in Nashville from the West Coast about six years ago. The pair's debut as bandleaders, Drink Drank Drunk, was released last year on Delta Groove to significant critical acclaim.
Nixon's vocals recall such fabled stylists as Jimmy Witherspoon and Billy Eckstine; Andy T likewise purveys a jazz-tinged sound, with plenty of references to T-Bone and the Moore brothers. Even when they're grinding out a Jimmy Reed–like shuffle (as on Best in Town, featuring evocative swoops, bends, and squalls from harpist Christian Dozzler), their hepcat vocal harmonies add a dash of jaunty sophistication to the mix. A muscular two-saxophone horn section riffs and testifies behind them, and when the horn players—Ron Jones and Dana Robbins—step out to solo, the band's blend of roadhouse rawness and show-lounge musicality is accentuated even more.
Occasionally, as on Snake in the Grass, a hard-edged funk-rock impetus toughens the sound; at the other end of the musical/emotional spectrum, the disc's closer, Love At First Sight, is a country/gospel-flavored ballad elevated by Robbins' soaring tenor solo. It all adds up to a blues-rich yet stylistically diverse set, infused with joy and enriched by impeccable musicality—from beginning to end.
—David Whiteis
Elmore Magazine
Andy T-Nick Nixon Band – Livin' It Up (Delta Groove)
Album Reviews | August 18th, 2014
Back with their sophomore effort is the Andy T – Nick Nixon Band, with producer Anson Funderburgh once again in control.   Last year's debut, Drink Drank Drunk, scored well on the blues charts and sparked a vigorous touring schedule for the band. Guitarist Andy "T" Talamantez and 71 year-old Nashville vocalist James "Nick" Nixon met three years ago at the Nashville Blues Society's regular Sunday night jam.  Although Nixon's roots extend back to Jimi Hendrix and Billy Cox, this is only the second time he's appeared on a full-length national release.  Nick has one of those unmistakably killer blues voices, capable of growling and crooning within the same song.  But, for the most part their sound is very smooth, anchored by the clean, T-Bone Walker guitar style of Andy T who relocated to Nashville from southern California six years ago.  While Funderburgh played several tracks on the first effort, all leads here come from Andy T who plays in a similar style.
Their band features keyboards from Larry Van Loon and sax from Ron Jones or Dana Robbins, who team on three of the tracks.  The horns make for a more fully rounded sound than the debut.  With ten originals and three well-chosen covers, you'll hear a variety of tempos and echoes of Texas, Memphis, and New Orleans along the way.  While every single track is worthy, note especially Nixon's convicted approach to "Back Down South" and the salacious "Snake in the Grass".  This band swings oh so soulfully!  Traditional blues lovers listen up – your blues is here as fresh as ever.
Jim Hynes
http://www.elmoremagazine.com/2014/08/reviews/albums/andy-t-nick-nixon-band-livin-it-up-delta-groove
Blues Underground Network


Andy T Nick Nixon Band "Livin' It Up" (USA)
Last year in my Blues Underground Network's Year End Review 2013, I chose "Drink, Drank, Drunk" by the Andy T – Nick Nixon Band as Best Debut Album (Band) (USA) & in my Blues Underground Network's Top 10 USA Blues Albums 2013 List, I pegged them at #6. Now after listening to their brilliant Sophomore release "Livin' It Up", I must say that they will probably have no problem at all being part of both my Year End Review and Top 10 List for 2014.
Simply put Andy T and James "Nick" Nixon have quickly rose to the top of many people lists of Great Collaborations. They have certainly rose to the top of my list of favorites and one of my most eagerly anticipated bands when it comes to their albums, which although they only have 2 to date, as the Andy T Nick Nixon Band, they certainly have a lot more amazing tunes then many bands with a dozen or more albums out, of which just a listen to any of their albums would quickly prove.
"Livin' It Up" starts the ball rollin' with "Baby Right Now" a real nice uptempo number that has no problem showing off the great Vocals of Nick Nixon and the great Guitar work of Andy T. Additional performers on this Track included Sam Persons on Bass, Larry Van Loon on B3 Organ, and Jim Klingler on Drums, which along with Nick Nixon and Andy T, make up the core of the band. Special Guest Ron Jones stepped in on Saxophone, something he does 8 times on this album and is a real welcome and really fine addition.
Next up is "Best In Town", another Nick Nixon original, this time along with co-writer William R Cox, and was an early favorite of mine, which featured some nice Harmonica work courtesy of Christian Dozzler, whom according to the album credits also plays Piano on this number, of which he does a great job as well. This Track is the only one that features Harmonica, of which I would of liked to have seen a little more, but what was offered was certainly rally good.
Track 3 is a tune called "Livin' It Down" and although it was not titled "Livin' It Up", I still consider it to be the title Track as the words "Livin' It Up" is used quite prominently throughout this tune.
She's Livin' It Up and I'm trying to Live It Down
"Livin' It Down" comes across with a nice little Latin feel. Sam Persons, whose main job is Bass on this album, stepped in and pulled off some really nice Rhythm Guitar. Once again Andy T was great on Guitar as was Larry Van Loon on Piano, whom got to do a little Solo work around the halfway mark. Nice!!!
Track 6 "One Note Shuffle" offers up the only instrumental on "Livin' It Up", and I must say a mighty fine one at that. This little gem features some great Sax work courtesy of Dana Robbins whom has her own band called the Dana Robbins Band. This song is more like a jam session where a number of performers get their chance to shine, first Robbins, followed by Andy T, Larry Van Loon, and then back to Robbins again whom nicely closes the Track out. Those that enjoyed Robbins work on "One Note Shuffle", get a chance to listen to her 4 more times on "Livin' It Up", which also included the last 3 Tracks.
Track 12 "Oh Baby" is a real beauty that features Texas Guitarist Anson Funderburgh on Rhythm Guitar. Funderburgh also wore the shoes as Producer and wrote the Liner Notes for this album. Saxophone lovers will really like "Oh Baby" as it featured not one but 2 players with both Ron Jones and Dana Robbins playing there hearts out.
"Livin' It Up" finishes off with a slow Ballad called "Love At First Sight", another Nick Nixon original. As far as I am concerned, this is the one that featured Nick Nixon at truly his Vocal best as he offered us a wonderful emotionally driven performance. Dana Robbins steps in around the halfway mark and together with Nick Nixon and the band, wonderfully walk together for the remainder of the Track. A very very classy closer.
"Livin' It Up" had no problem showing me that the Andy T Nick Nixon Band are certainly at the top of their league, a place, that with the mastery of Nick Nixon and Andy T, they absolutely deserve to be. A really fine album for which the Andy T Nick Nixon Band have shown us, in no uncertain terms, what the opposite of Sophomore Jinx is all about.
Review by John Vermilyea (Blues Underground Network)
http://www.bluesundergroundnetwork.com/Andy_T_Nick_Nixon_Band_CD2.html
Nick Nixon Featured In June 2013 Issue of Living Blues Magazine

We continue our look at the Nashville blues scene with Tim Ghianni's feature on James "Nick" Nixon. Nixon was the leader of one of the first racially mixed bands in Nashville in the 1960s and has been a central figure in the city's R&B scene for over 50 years. This issue also features a story on guitarist Melvin Taylor and young blues phenom Selwyn Birchwood, who recently took top honors at the IBC awards in Memphis. We also have a wonderful photo essay by folklorist George Mitchell from his remarkable 1967 trip to the Mississippi hill country, where he first met Otha Turner, Jessie Mae Hemphill, R.L. Burnside, and Mississippi Fred McDowell, among others.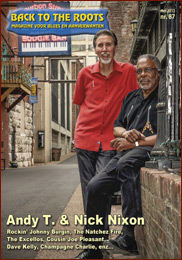 Andy  T and Nick Nixon featured in cover story in the Belgium based  "Back To The Roots Magazine" cover article in the May/June 2013 issue.
WHAT THE CRITICS ARE SAYING ABOUT
ANDY T-NICK NIXON BAND's "DRINK DRANK DRUNK" CD

"Nixon's deep-blues vocal delivery and Andy's stinging guitar chops are fabulous together throughout their CD…They will rock your world." (Robert K. Oermann/Music Row)
"USA TODAY/Playlist: music critic Jerry Shriver highlights 10 intriguing hits found during the week's listening. Drink Drank Drunk, Andy T-Nick Nixon Anson Funderburgh chimes in on guitar on the title track of this collaboration from guitarist 'Andy T' Talamantez and vocalist/guitarist James 'Nick' Nixon."
"a fresh new collaboration, the Andy T-Nick Nixon Band with producer Anson Funderburgh lending his ears and axe…Although Nixon's roots extend back to Jimi Hendrix and Billy Cox, this is the first time he's appeared on a national release. Wow! What a singer! These veterans may be new names to you but not for long." (Jim Hynes/Elmore)
"soulful, present, wise and empathetic…Nixon's voice is more like a hammer wrapped in velvet…" (Peter Cooper/The Tennessean)
"10 Hot New Blues Albums for Spring: Andy T – Nick Nixon Band "Drink Drank Drunk" (Delta Groove) – T plays guitar and Nixon howls the blues, Anson Funderburgh guests on guitar, a stellar group of guest players appear and that adds up to an impressive set." (Kevin Wierzbicki/Examiner.com)
"Veteran blues guitarist Andy T learned about bandleading on the road with his mentors Guitar Shorty and Smokey Wilson. Powerhouse red-clay soul singer James 'Nick' Nixon came up during the 1960s in Nashville's Jefferson Street R&B scene. When Andy first heard Nick, he knew he'd found his foil for the group he envisioned — an outfit that could swing effortlessly between West Coast jump blues stompers, hardcore Chicago and Texas string-fests, and Louisiana swamp grooves…their brand-new debut Drink Drank Drunk has hit the national blues radio chart at No. 10, thanks to an eager-to-please mix of classics like Gatemouth Brown's hard-charging 'Midnight Hour' and comic originals like the title cut and Andy's 'Have You Seen My Monkey?'"(Ted Drozdowski/Nashville Scene)
"Drink Drank Drunk is an in-your-face collection of blues drawing from nearly every major geographically defined subset. Highlights include Gatemouth Brown's 'Midnight Hour,' the ragin' Cajun blues of 'Have You Seen My Monkey?,' 'On My Way to Texas,' and the whiskey-soaked title track." (Michael Mueller/GuitarInstructor.com)
"There are certain instances where words fail to aptly describe an album. Such is the case with Drink, Drank, Drunk, the debut album for the Andy T-Nick Nixon Band. In short, this record is musicianship at its highest level… Andy T, a veteran of Guitar Shorty's band, has a gorgeous, clean tone that he adapts well to any style of blues. As for Nixon, he's a veteran blues vocalist from Memphis, TN, and he's got the soul, the gruff, and the phrasing to prove it. While it's too early in the year to say for sure, Drink, Drank, Drunk looks to be one of the top new releases of 2013. The Review: 9/10" (Nik Rodewald/Blues Rock Review)
"This well-rounded set features some crisp, economical fretwork from Andy T and also the powerhouse vocals of Nixon, who leaves nothing on the table no matter what the song is. Drink Drank Drunk is a fantastic release…With Andy T's spot-on guitar work and Nick Nixon's hurricane force vocals, this release will appeal to all blues fans." (Graham Clarke/BluesBytes)
"simply a great Blues CD…Nick's vocal performance on the title track, "Drink, Drank Drunk" is just about perfect. I think Nick could sing a story out of a local newspaper and it would sound great. Joining Nick's voice perfectly are the great tones and guitar style of Andy "T" Talamantez's guitar….Supporting these two superstars are some of the best side men in the business today…Congratulations to all for producing a "four star" Blues CD. (Bob Nicosia/Music Man Blog)
"Andy and Anson are two very good hollow-body guitarists who team up with vocalist extraordinaire Nick Nixon and produce 12 tracks of great music. powerful and personal vocals and growling guitars…A cool listen. (A. J. Wachtel/Boston Blues)
"This is a good combination. Nick Nixon, an old-school blues and soul singer who used to play in a band with Billy Cox (Band of Gypsies), and guitarist Andy 'T' Talamantez, who played with Guitar Shorty, bring it authentic. (Tad Dickens/Roanoke Times)
"a stellar disc with limitless possibilities…" (Kyle Deibler/BluesBytes)
"Sparks fly. A classic Chicago/Houston cross pollination results here…Killer stuff. (Chris Spector/Midwest Record)
"…outrageously good. The vocals from Nick, his guitar playing, and Andy on guitar are a superb blues combination. Anson Funderburgh not only produced the CD, but plays on it as well, and adds to its beauty. Classic songs, classic licks, great instrumentalists…This is a winner." (Barry Faust/Smoky Mountain Blues)